Innovative Basement Systems is an authorized Foundation Supportworks dealer. This dealer offers highly trained foundation repair contractors in North Dakota who have earned certification from the extensive training program at the company headquarters in Nebraska. Foundation Supportworks is the largest network of foundation repair contractors throughout the United States and Canada, using the most innovative & effective products and methods available today.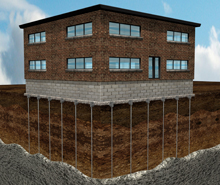 If you've noticed signs of foundation problems such as drywall cracks, doors and windows that are hard to open or close, cracks in your foundation walls, cracks in floor slabs, or cracks in brick and mortar veneer, you should contact us for a FREE inspection and estimation. We also specialize in basement waterproofing in North Dakota & Minnesota.
Innovative Basement Systems can provide you with an expert consultation, a clear solution to your problem, and answers to all your foundation questions. Foundation Supportworks contractors use galvanized steel in their foundation repair products. The Journal of Light Construction reports test data indicating that in moderately to highly corrosive soils, this material should last 75 years or more, and should last for hundreds of years in less corrosive soils. This is a solution that will last!
Contact Innovative Basement Systems for You FREE Inspection & Written Estimate on Foundation Repair Today!
Innovative Basement Systems serves the entire state of North Dakota. We also perform foundation repair in Minnesota , in the following counties: Becker, Beltrami, Clay, Clearwater, Douglas, Hubbard, Kittson, Lake of the Woods, Mahnomen, Marshall, Norman, Otter Trail, Pennington, Polk, Red Lake, Roseau, Todd, Wadena, and Wilkin.
(Click on the map for Innovative's detailed service area.)