Foundation Repair Services - We Can Help!
Who is Foundation Supportworks?
Foundation Supportworks, Inc. is a leading manufacturer of foundation repair and stabilization products. We have a strong network of independent foundation repair contractors spanning the United States and Canada helping residential and commercial property owners fix their failing foundations.
What We Do
Foundation Supportworks, Inc. brings structural integrity to building and residential foundations, repairing settling, bowing, cracked, and damaged commercial, municipal, and residential foundations.
How We Repair Foundations
Foundation Supportworks contractors provide the state-of-the-art in foundation repair and wall stabilization.
Largest foundation company network.
Specializing in foundation and basement repair.
House settlement, house leveling, and slab repair solutions.
Structural repair performed with proprietary, specially engineered products.
FREE foundation inspections and estimates!
Foundation settling and shifting can be caused by building a structure on expanding or contracting soil, improperly compacted fill soils, or from poor or erroneous maintenance of the earth around the foundation. Whatever the cause of a settling foundation, this settlement can ruin a building's value and even render it unsafe or unlivable.
Foundation Supportworks contractors stabilize failing or settling foundations with Foundation Supportworks' proven, engineered piering system - repair cracked & bowed basement walls with our proven, engineered wall anchor system - and reinforce settling foundations with our proven, engineered helical pier system.
Foundation Supportworks is the international leader in foundation stabilization with the most complete team of engineers and support staff in the industry. With the best foundation company network throughout the U.S. and Canada, you can count on finding the answers to your foundation problems.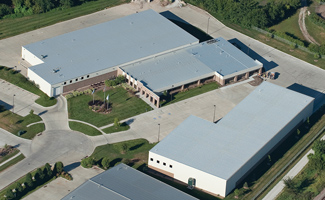 Foundation Supportworks Headquarters in Omaha, NE
About Foundation Supportworks
Foundation Supportworks provides various solutions to solve foundation support issues including: helical pier and anchor systems, push pier systems, and wall anchoring products. Whether you are in need of foundation repair, new construction or commercial applications, Foundation Supportworks' network of certified companies will do the job right.
Foundation Supportworks' products are used throughout North America to secure residential and commercial buildings, stabilize foundation and retaining walls, support tower foundations and many other deep foundation applications.
Whether you are experiencing settling foundations, bowed basement walls, foundation cracks or cracks in drywall, sagging floor joists, a sinking slab, or are building on unsuitable foundation soils, Foundation Supportworks has the solution for your problem.
For homeowners, commercial property owners, general contractors and engineers, Foundation Supportworks is the right foundation repair company to solve your structural support needs. Contact us today for a free foundation inspection, evaluation and repair estimate!