Slab Foundation Settlement Repair
Simple, Lasting Solutions For Sinking, Settling Foundation Slabs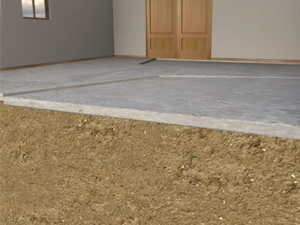 Floor cracks are a major sign of slab sinking and settlement.
Concrete slab foundation settlement is often the result of changes in moisture content and density of the soils beneath the slab. For example, soils beneath a concrete slab can dry and shrink over time due to extended drought-like conditions or leaking HVAC systems. Loosely compacted fill soils can also consolidate beneath a slab causing floor cracks, tripping hazards and other cracking and settling throughout a home or building.
These conditions and others, create a void under a slab. If the slab isn't strong enough to span the void, the slab will crack, break, and settle into the void. Check out our page on what causes slab settlement issues for more information.
Don't wait for the problem to get worse. Contact a Foundation Supportworks dealer to schedule an appointment for a free evaluation of your property today.
Warrantied Slab Stabilization Products
Slab Pier Advantages:
Can be installed year-round
Deep pier installation extends beyond unsuitable soils
Non-invasive - small holes are cored in the slab and patched afterwards
Can lift slabs and partition walls back to original, level position
Long-term solution
Restores property value
The Foundation Supportworks Slab Pier System can stabilize concrete floor slabs and provide the best opportunity to re-level the floor and lift any non-load bearing partition walls that may have settled along with the slab.
Rugged steel pier sections are hydraulically driven through a heavy-duty slab bracket to reach competent, load-bearing strata.
The weight of your concrete slab floor is then carefully transferred from the original unstable soil, through the piers, to competent soils below.
Slab Pier Installation Steps:
| | | |
| --- | --- | --- |
| Step 1: A small hole is cored through the concrete floor. | Step 2: The slab bracket is positioned beneath the concrete slab. | Step 3: Steel tubes are hydraulically driven down through the bracket to competent soil. |
| Step 4: The weight of the slab is transferred through the piers to load bearing strata. The slab is lifted back to level if possible. | Step 5: Grout is carefully pumped under the slab to fill the void created by the settlement and slab lifting process. | Step 6: Concrete is placed within the cored hole. |
Regardless of what your foundation problem is, there is help available for you. Foundation Supportworks' network of foundation repair contractors can provide you with a consultation on your sagging foundation, bowing foundation walls, horizontal or diagonal foundation wall cracks, and other failing foundation issues.
We'd like to offer you a free, no-obligation inspection and cost quote for repairing your foundation. To schedule an appointment at a convenient time for you, contact us today!
Looking for a price? Get a no cost, no obligation free estimate.