Correcting concrete heaving, foundation heaving and frost heaving problems
Foundation Supportworks provides expert repairs to concrete and foundations that sustain damage from frost heaving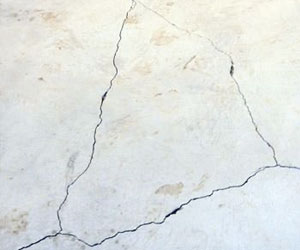 Other causes of concrete heaving
Sometimes freezing water isn't the culprit when concrete is pushed up or in by soil pressure. Clay-rich soil absorbs moisture rather than allowing it to drain through. The expansive force of clay-rich soil when it absorbs water can be just as destructive as frost heaving.
To remedy this problem, a foundation repair specialist is likely to recommend improving drainage and replacing expansive soil with soil that drains well because of higher sand and gravel content.
Frost heaving can damage many types of concrete and masonry, including sidewalks, patios, slabs, retaining walls foundation walls. To repair heaved concrete and prevent concrete heaving in the future, rely on the expertise of a foundation repair specialist.
Foundation Supportworks contractors offer free estimates for concrete heaving repair. Click below to get in contact with your local foundation repair company!
What is frost heaving and how does it damage slabs, foundations and other masonry elements?
Cold temperatures cause most materials to contract, or become smaller, while heat does the opposite, triggering expansion. But water behaves in a different way. Yes, it will expand slightly when heated and its volume will decrease as it cools. But when water freezes, it expands, taking up 10% more volume than it had as a liquid. In situations where freezing water occupies a confined space, it can exert tremendous expansive force 20,000 to 80,000 pounds per square foot. Such extreme force can heave sidewalks, break apart a concrete patio, crack a foundation wall or push a deck post up out of the ground.
Foundation repair specialists treat the symptom in order to permanently solve the problem
If a concrete or masonry element has been damaged because of frost heaving, it's not enough the repair the damage. An experienced foundation repair contractor will work to determine how the heaving occurred and how different repairs can be made to avoid heaving in the future. In many cases, drainage techniques will be used to prevent nearby soil from getting saturated with water. In other situations, it may be necessary to install steel anchors or piers that connect the wall or slab to more stable soil that isn't subject to freezing temperatures. Sometimes both preventative measures are used.
Contact your local Foundation Supportworks contractor today to resolve concrete heaving and related issues. Your contractor will offer a free estimate for services needed!
Looking for a price? Get a no cost, no obligation free estimate.