Crawl Space Support Systems
Repairing Sagging, Damaged Crawl Space Structures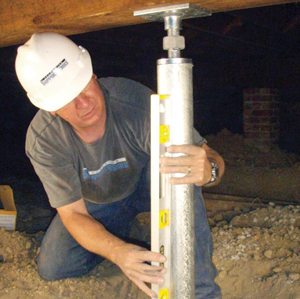 Foundation Supportworks dealers have many years of experience solving crawlspace issues.
Settling columns, sagging beams and sagging floor joists within a crawlspace can lead to extensive cosmetic and structural damage in a home if left uncorrected. Symptoms such as sloping floors and cracks in drywall are common when additional support systems are needed within a crawlspace.
Settling of columns in a crawlspace is most often caused by weak foundation soils. Over time, these soils shift and settle with changes in moisture content and density, causing movement of the columns and the beams above.
Sagging beams and floor joists are often the result of improper spacing of existing pier columns, effectively overloading the beams and causing them to bend and sag. Excess moisture and wood rot can also cause beams and joists to weaken over time.
Foundation Supportworks dealers can identify and solve structural issues in your home's crawlspace. Schedule a free estimate with your local dealer today!
SmartJack® Advantages:
Ability to install in tight conditions where height or access is limited
Minimal disturbance to the crawlspace and home
No messy concrete or long curing time required
Immediate stabilization and results
Engineered footing effectively transfers load to existing soils
System is galvanized for long-lasting corrosion resistance
Can support vertical loads exceeding 60,000 lbs.
Restores property value
How the SmartJack® Reinforcement System Works
If your crawl space is experiencing structural damage, the Foundation Supportworks' SmartJack® System is the answer.
The SmartJack® is a supplemental support system that helps correct issues caused by inadequate structural design, weak foundation soils supporting columns or rot and weakening of the floor system due to high humidity and moisture levels within a crawlspace.
Along with providing structural support, the SmartJack® System will level and stabilize the beams and floor joists in your crawlspace.
The system is manufactured from high-strength steel, providing the best opportunity to lift the above floors and walls back to their original, level position.
SmartJack® Installation Steps:
| | | |
| --- | --- | --- |
| Step 1: Hole is excavated & footing base is prepared with engineered fill. | Step 2: The pre-cast footing is set in place and leveled. | Step 3: Galvanized steel pier is cut to the appropriate length. |
| Step 4: The steel column and components are assembled and connected to the beam and floor joists. | Step 5: The SmartJack® System is tightened into place, stabilizing the beams and potentially lifting the above floors and walls back to level. | Step 6: The SmartJack® System can also be installed in conjunction with a crawlspace liner. |
Regardless of the problem in your foundation, there is help available for you. Foundation Supportworks' international network of foundation repair contractors would like to provide you with a consultation on your sagging foundation, bowing foundation walls, horizontal or diagonal foundation wall cracks, and other failing foundation issues.
Call or contact us by e-mail today for a free, no-obligation foundation repair estimate!
Looking for a price? Get a no cost, no obligation free estimate.