Repairing basement and foundation walls
Engineered products can fix foundations at risk of failing because of soil pressure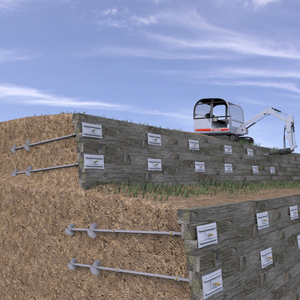 Anchors counteract soil pressure. A wall anchor consists of two steel pressure plates that are connected by a strong steel rod. With the "outboard" pressure plate anchored in the soil, the interior plate can exert pressure to straighten and stabilize a damaged foundation wall. This clamping action occurs when a technician tightens a nut on the threaded end of the rod.
Basement and other foundation walls can sometimes be damaged by soil pressure. In some cases, the weight of the soil is simply too great to be held back by the foundation wall. In other cases, soil with high clay content expands during wet weather, exerting extra pressure against foundation walls. Whatever the cause, there are several telltale signs of foundation wall damage.
Signs of foundation wall damage
Tilting. The top of the wall is being pushed inward by soil pressure.
Bowing. Only part of the wall has weakened and is being pushed inward.
Wall cracks. Cracks typically appear when a wall tilts or bows. If the foundation wall (or retaining wall) is made from concrete block, cracking will often occur along joint lines between individual blocks.
If you've noticed any of these foundation wall damage symptoms, contact your local Foundation Supportworks contractor to get started on repairs! Our contractors offer free estimates for all of your foundation repair needs.
Act quickly and call the right contractor
You don't need to be an expert to know that foundation wall damage is likely to worsen over time. Walls that have cracked also increase the likelihood of unwanted water in your basement or crawl space. For these reasons, it's smart to act quickly if you see signs of foundation wall damage.
It's also important to enlist the services of a foundation repair specialist. Unlike general home repair contractors, foundation repair contractors concentrate on this single area of building repair. Foundation repair specialists in the Foundation SupportWorks network have access to special training, tools and materials for all kinds of foundation repair work.
Basement and Foundation Wall Repair Methods
There are several common basement wall repair methods available, and your local Foundation Supportworks dealer will explain them all to you, so that you can choose the system that will work best in your home.
Some common basement wall repair methods include wall anchors, I-beams or wall reinforcement beams, carbon fiber straps, and helical anchors. Each of these options can be an effective basement wall repair solution, which is why it is important that you have an inspection done by a well-trained foundation repair contractor that will recommend the right solution for the situation in your home.
Symptoms Of Bowing Basement Walls
Symptoms of a bowing basement wall can vary depending on the type of construction.
Symptoms of bowing basement walls with a block foundation can include horizontal cracks in mortar joints, stair-step cracks at outside corners, horizontal shearing at the bottom of the wall and tipping at the top of the wall. In some extreme cases you may witness more than one or all of these symptoms and may even notice basement walls that are bulging and have cracks all throughout the wall. If this is the case, the wall may be on the verge of a collapse.
Symptoms of a bowing or leaning wall with a poured foundation most often include the tipping of the wall, diagonal cracks at outside corners, and vertical or horizontal cracks in the wall.
Warrantied, Lasting Solutions For Failing Basement Walls
Regardless of the problem with your foundation, your local Foundation Supportworks dealer will offer you a FREE Foundation Wall Inspection, and recommend a solution that will fix your foundation problem for good.
If you live in the United States or Canada, we're here to help you! Contact us today to schedule an appointment with a foundation repair expert.
Looking for a price? Get a no cost, no obligation free estimate.