Helical Anchors - Wall Stabilization System
Repairing Foundation Walls That Are Bowing, Sliding Inwards, Or Tilting Inwards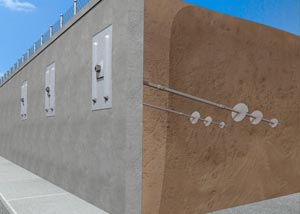 Helical Anchor Systems
Helical Anchors (also referred to as tiebacks or screw anchors) support cracked, bowed or leaning foundation and retaining walls.
A helical anchor is mechanically screwed into the soil using a hydraulic torque motor during installation. The anchor is then secured against the wall using an interior wall plate.
Cracked, buckling, and leaning foundation walls are a serious foundation problem that can have devastating consequences if not addressed.
The Foundation Supportworks Helical Anchors permanently stabilize basement and retaining walls without the need for excavation.
Advantages of Helical Anchors:
Can be installed year-round
Minimal disturbance to your home and landscaping
Does not utilize floor joists for support
Easy to conceal when finishing your basement
Includes a written, transferable warranty
Designed with corrosion-resistant galvanized steel
Installs quickly, solves the problem permanently
Restores property value
Helical Anchor Application

Because they can be installed from inside the home, helical anchors are often recommended where outside access would make foundation wall anchors an impossibility. This is a permanent, warrantied solution!
Whether the problems with your foundation walls are caused by hydrostatic pressure, expansive clay soil, or another reason, don't risk the investment in your home by waiting to address the issue until it's too late!
To meet with one of our experts for a foundation repair quote, contact us by phone or e-mail today! Our specialists serve throughout the United States and Canada, including your local neighborhood.
Installing Helical Anchors
Here's how it works. First, a small hole is cored through your foundation or retaining wall. Galvanized steel helical anchors are mechanically screwed out through your foundation or retaining wall into the soil while being carefully monitored to achieve capacity.
Once appropriate distances and capacities are reached, a low-profile wall plate is then secured to the foundation or retaining wall. Once all components are connected and tightened, your foundation or retaining wall is permanently stabilized.
At this point, you can rest easy knowing your foundation or retaining wall is safe and stable. The low-profile wall plate allows you to easily finish your basement walls, completely covering the wall plate for a neat and clean look
For added aesthetic appeal, we have a specially designed low-profile wall anchor cover that is and can be used in both finished and unfinished spaces.
We Installed warrantied Helical Anchor Systems!
All Foundation Supportworks specialists have the products, training and expertise to help you select the best method to solve virtually any foundation repair problem. The FSI foundation contractor will evaluate your foundation and provide you with a solution that will give you peace of mind for years to come. Call or contact us online for a Free Estimate on helical anchors installation.
Don't wait for the problem to get worse. Contact a Foundation Supportworks dealer to schedule an appointment for a free evaluation of your property today.
Looking for a price? Get a no cost, no obligation free estimate.