GeoLock® Wall Anchor System - Wall Stabilization
Stabilizing & Straightening Buckling, Failing Foundation Walls
The GeoLock® Wall Anchor System from Foundation Supportworks stabilizes basement and retaining walls and offers the best opportunity to straighten walls over time without the cost and disruption of foundation replacement.
For a Free Foundation Repair Estimate and Inspection, call or contact us online today!
If you have walls that are cracked, bowed, leaning or pushing inward, you have a serious foundation problem that needs to be addressed right away. Cracking, bowing or buckling foundation walls can be a scary prospect to a homeowner. Many property owners are relieved to discover that the engineered wall support systems from Foundation Supportworks can stabilize their failing foundation walls at a fraction of the cost of many other options.
While there are a number of potential causes of cracked and bowing foundation walls, the most common is pressure from the soil on the outside of the wall. When clay soils get wet, they expand and put pressure on the wall. When the force exceeds the strength of the wall, the wall cracks and breaks. This reduces the structural integrity of the wall, and when the wetting cycle is repeated, this causes further weakening and inward movement.
How We Install the GeoLock® Wall Anchor System
During the installation of GeoLock® foundation wall anchors, heavy-duty, galvanized earth anchors are embedded into the soil out away from the foundation wall. Then they are connected to heavy-duty, steel wall plates with galvanized anchoring rods. The anchors will hold the wall in its current position without any further adjustment. A unique and important benefit of the Geo-Lock system is the ability to tighten the wall anchors during dry periods when the soil has contracted. This enables possible improvement and straightening of the wall over time.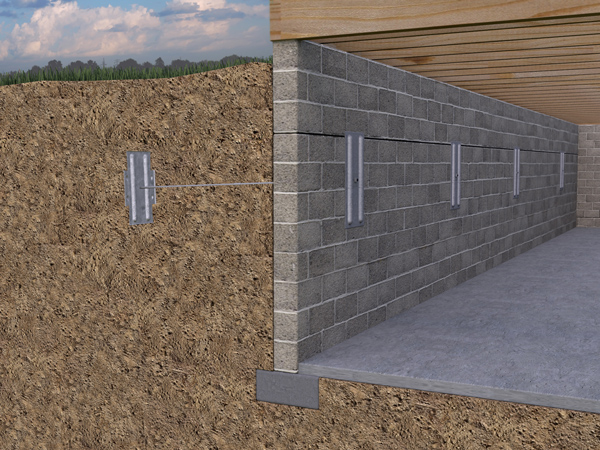 GeoLock® Wall Anchors are a reliable alternative to the removal and reconstruction of foundation walls, which is expensive, disruptive, and often a short-term solution. It is also an alternative to other unsightly and costly wall bracing systems that can cause major damage to the framing of a home. If necessary, we also offer low-profile wall anchor covers that can be used in both finished and unfinished spaces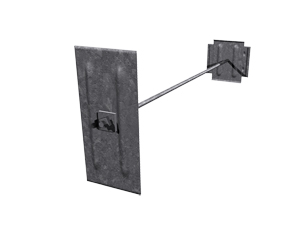 GeoLock® Wall Anchor Advantages
Can be installed year-round
Most jobs completed in one day
Minimal disturbance to your home, lawn and landscaping
Can straighten your walls (in most cases)
Does not utilize floor joists for support
Easy to conceal when finishing your basement
Your walls will not bow or tilt in any further
Does not require maintenance
Restores property value
When you sign up for a Free Foundation Wall Repair Estimate through Foundation Supportworks, you'll be connected with a local contractor with proven wall stabilization solutions that will give you peace of mind. With Foundation Supportworks, you know that your foundation walls have regained their structural integrity.
Wall Anchor Installation Steps:
| | | |
| --- | --- | --- |
| Step 1: Sod is carefully removed and an earth anchor hole is augured. | Step 2: A small hole is drilled through the wall and a rod is driven out. | Step 3: An earth anchor is installed and attached to the rod. |
| Step 4: A wall plate is attached and tightened, seating the earth anchor. | Step 5: The hole is backfilled and the sod is replaced. | Step 6: Anchors can be tightened at intervals and improve the wall over time. |
Foundation Supportworks' Wall Anchor System is the Answer
The Foundation Supportworks' Geo-Lock Wall Anchor System, available only from an authorized FSI foundation contractor, uses durable galvanized steel wall plates and earth anchors, sometimes called screw anchors, that are connected by a high-strength steel rod to permanently stabilize basement or foundation walls. The FSI wall anchor system stabilizes a foundation wall and also offers an opportunity to straighten it over time, restoring structural integrity to a home.
Installation of the Geo-Lock system requires minimal disruption to landscaping and can be installed to avoid patios, decks, and sidewalks. Installations can be performed year round and are usually completed within one day.
For a Free Foundation Repair Estimate and Inspection on stabilizing a basement or foundation wall, call or contact us online today!
Looking for a price? Get a no cost, no obligation free estimate.