Foundation Wall Reinforcement with PowerBrace™
Patented, Corrosion-Resistant, Adjustable I-Beam System For Bowing Walls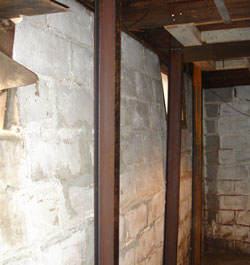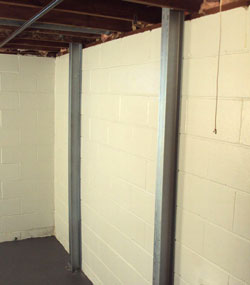 Bowing walls can be found across the country in many types of properties.
The patented PowerBrace™ Foundation Wall Reinforcement system from Foundation Supportworks effectively stabilizes your basement walls, in turn protecting your largest investment, your home. Heavy-duty, zinc-plated steel beams are custom-fit to your basement wall height. The beam is then secured tight against your basement wall with heavy-duty steel brackets that are anchored to your basement floor and floor joists. The steel beams will stabilize the wall in its current position, without any further adjustment. A unique, patented approach to the PowerBrace™ design is the ability to continue to tighten the system during the dry season for possible wall improvement.
To see how this system could help your home, contact your local Foundation Supportworks contractor! Our contractors will provide you with a free estimate.
Protected from Corrosion
To protect the system from corrosion, all components of the Foundation Supportworks PowerBrace™ System are zinc-plated in accordance with the American Society for Testing and Materials (ASTM) B633 standards for zinc coatings on steel. Most steel beam systems offered by contractors are installed using black, uncoated steel or painted steel. Unprotected steel offers very little resistance to corrosion, resulting in a rusted and unsightly system in your basement living space and potential health concerns.
Did You Know?
Rust is Iron Oxide. Hence, any warnings concerning the ingestion of iron may apply. Accidental iron poisoning is the leading cause of poisoning deaths among young children. Rust also provides the perfect habitat to harbor the dangerous bacteria C. tetani which causes tetanus. Tetanus produces many harmful effects, such as muscle spasms, difficulty swallowing, and elevated blood pressure and heart rate.
Advantages of PowerBrace™ Foundation Wall Reinforcement
Can be installed year-round
Most jobs completed in one day
No disturbance to your home, lawn, and landscaping
No outside excavation required
Long life span - zinc coated steel is resistant to corrosion
Warrants your walls will not bow/tilt-in any further
Restores property value
Steps to a Safe & Secure Basement Wall
| | | |
| --- | --- | --- |
| Step 1: Basement wall height is measured, and the PowerBrace™ steel beam is cut to the appropriate height. | Step 2: The top of the steel beam is fastened and secured to the floor joists. | Step 3: The PowerBrace™ beam is plumbed. |
| Step 4: The bottom of the steel beam is anchored to the concrete floor. | Step 5: The PowerBrace™ System can be tightened at intervals for possible wall improvement. | Step 6: Reinforced foundation walls! |
PowerBrace™ will support your home's bowing balls
Bowing walls can seem like a major problem, but a Foundation Supportworks contractor has the tools to repair this common foundation issue. If you're looking for a solution to bowing walls, contact your local contractor for a free quote!
Looking for a price? Get a no cost, no obligation free estimate.