Calculating Foundation Repair Cost
Determining A Fair Cost For Repairing Your Foundation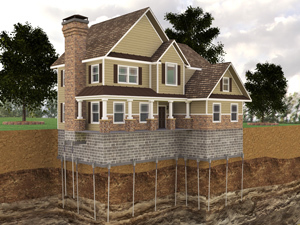 How Far Down Is Stable Soil?
If you're installing foundation push piers, they will need to extend downward beneath your home until competent strata is reached.
This distance will vary significantly from one home to the next. The number of steep pier sections that are needed to achieve the optimal depth will be one factor in determining the repair cost.
Every solution to a settling foundation, bowing basement wall, settling concrete slab, or sloping floor requires a customized foundation repair system. Foundation repair solutions vary in cost depending on the type of problem and type of solution that is required.
The foundation repair's cost will also vary depending on the difficulty of the repair and the amount of preparation that is required in order to complete the repair. For example, the amount of excavation required to reach the bottom of the foundation can affect the cost of a foundation settlement repair.
Repairing Your Foundation With FSI
With that being said, every Foundation Supportworks dealer will design a repair system that will solve your foundation problem in the most cost-effective way.
Foundation Supportworks dealers don't start by pricing high, and then discount to make you feel that you're getting a "great" deal.
Although the cost for a foundation repair will vary depending on the type of system and level of difficulty, you can rest assured that you will get a fair price that will be competitive from your local representative.
Representatives can design a foundation repair system to your needs
Foundation Supportworks dealers are trained on how to design a foundation repair system that will give you successful results without "over engineering" a system that isn't cost-effective. Your local dealer will base the cost of your repair off a price sheet so you are protected from variable pricing. To meet with your local experts for a foundation repair quote, contact us by phone or e-mail today! Our dealers serve throughout the United States and Canada.
Foundation Repair Pays for Itself!
The decision to fix foundation problems permanently is an investment in your home that makes sense. An important thing to consider is the resale value of your home, since most people sell their home at some point in their life. People are very hesitant to buy a home with a structural defect, and if they do, they certainly don't pay full price for it.
The Real Estate Seller Disclosure Act requires that foundation problems be disclosed to potential home buyers. Realtors say that they have to discount a home with structural defects 10 to 20% in order to go forward with the sale of the home. What is your home worth in today's market?
By not fixing your foundation, it's going to cost you much more money than fixing it! It's simply an investment that makes sense!
Why Choose a Foundation Supportworks Dealer?
Choosing a Foundation Supportworks dealer to repair your foundation is a decision that will equip your foundation with the highest quality products that have been designed by professional engineers.
Our mission is to offer you products that will permanently fix your foundation and provide you with "WOW" customer service along the way. We're confident that you'll be impressed with our systems and assure you that you'll get a repair at a reasonable price.
Free Estimates and Inspections
Foundation Supportworks would like to send a local expert to your home to help you decide what is the best foundation repair option for your home.
We would like to offer you a FREE inspection and estimate for the foundation problem in your home. Once you've decided what foundation repair option will work best for your home, your local expert will write a proposal and establish a price for the repair.
Most of our dealers offer financing and payment options so you can keep the repair within your budget. Contact us today for your FREE inspection and estimate.
Looking for a price? Get a no cost, no obligation free estimate.