Push Pier Systems - Foundation Repair Piers
A Fast, Permanent, warrantied Solution That's Possible Year-Round
There are a number of disturbing signs a homeowner may encounter that indicate a foundation settlement problem. Foundation Supportworks' Push Pier System is the right answer.
Cracks on the exterior of your home, cracks in drywall on interior walls, doors and windows sticking or not opening, and/or your chimney pulling away from your home are all issues that point to the same problem - foundation settlement.
How Foundation Settlement Occurs
Foundation settlement problems are typically caused by changing soil conditions around and below your home. Wetting and softening of soils, drying and shrinking of soils, and soil layers compacting under added structural weight can all cause changing soil conditions which cause your home to shift, sink and settle.
Repair Or Replace The Foundation?
Some homeowners think replacing the foundation walls and footings is the solution to fix foundation settlement -- without realizing how costly, messy and disruptive it is to your home, yard, landscaping, sidewalks, driveways and decks all need to be removed and replaced. However, because the real problem is with the compaction and expansion of the soil rather than with the foundation itself, the same problem is likely to occur again.
Other solutions such as concrete piers, are unable to reach deep, competent soils in order to support the weight of your home. Some can even add additional weight to the soil, making the problem worse.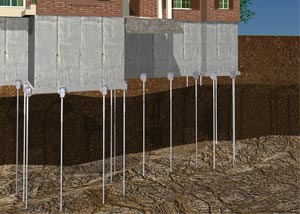 What Are Push Piers?
Push piers are designed with heavy-duty steel, and are connected to your foundation by a steel bracket.
Each pier is driven deep below your home to strong supporting soils that can bear the weight of your structure.
Foundation Supportworks' Push Pier System is the Answer!
To repair a foundation properly, Foundation Supportworks' Push Pier System uses rugged steel pier sections, driven deep into the earth's soil, to transfer the weight of your home onto competent, load-bearing strata or bedrock.
Not only does this foundation piling permanently stabilize your home's foundation, it also provides the best opportunity to lift your home back to its original, level position.
Installing Foundation Push Piers
Installation of the Foundation Supportworks' Push Pier System is all below grade, which means the system itself will not be visible after installation to detract from the beauty of your home.
Installations can be performed year-round and do not require the use of heavy equipment, which can damage your lawn and landscaping.
Four Steps To Push Pier Installation
Excavate Around The Foundation: At each pier location, the foundation is excavated to expose the foundation footing.
Mount The Foundation Bracket: During installation, heavy duty steel foundation brackets are secured to your foundation's footings.
Install The Push Piers: Galvanized steel pier sections are hydraulically driven through the bracket to competent soils or bedrock.
Transfer The Weight: The weight of your home is then carefully transferred from unstable soil conditions through the piers onto load-bearing strata, resulting in the permanent stabilization of your home's foundation.
Once the installation is completed, you have the choice of either stabilizing your home at its present location or lifting your home back to a level position. Either way, the Foundation Supportworks Push Pier System offers you the strength, durability, and lifespan of galvanized steel as well as the peace of mind of knowing your home is back on solid ground.
We Install warrantied Push Pier Systems!
Repairing a foundation with a push pier system can be done any time of the year. Our complete, installed system can be installed in just a few days, and includes a written, transferable warranty when the work is done.
If you'd like to learn more about how we can help you, contact us by phone or e-mail today! We'll put you in touch with your local Foundation Supportworks Dealer, who will schedule a free foundation repair quote at a time that works for you.
Our experts are located all across North America, including the United States and Canada.
Looking for a price? Get a no cost, no obligation free estimate.